Thank you to all who attended MasonARC19!
The MasonARC 2019 conference was held on October 18th, 2019 to great success! More than 70 attendees including 12 panelists from the worlds of academic research, arts policy, artists and arts organizations, and grant makers met on the George Mason campus for a day of talks, panels, and collaborative activities. Please click here to view a summary of our post-conference survey, and please click here to view our blog series from the conference, as well as other recent blog posts from the ARC research team! Stay tuned here (masonarc.gmu.edu) for all MasonARC news and updates over the coming months. In the meantime, please enjoy the photos below and we hope to see you all again soon!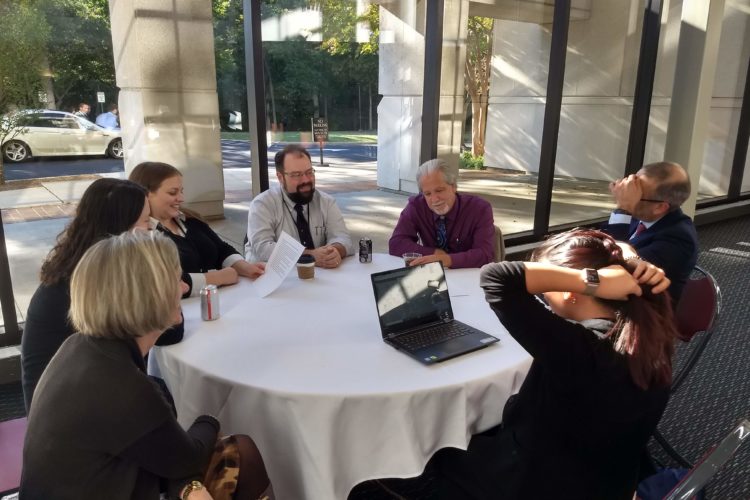 Previous
Next
The Mason Arts Research Center, a National Endowment for the Arts Research Lab, is a cooperative agreement between the National Endowment for the Arts and George Mason University. This event is funded in part through a cooperative agreement with the National Endowment for the Arts.
MasonARC19 Conference Program
October 18, 2019
8:00am to 9:00am

1st Floor Lobby

Breakfast & Poster Symposium Session

Open conversations at posters

8:30am: Opening Remarks

Sunil Iyengar (National Endowment for the Arts)

Rick Davis (Dean of College of Visual and Performing Arts, Mason)

Adam Winsler, Kim Sheridan & Thalia Goldstein (Mason Arts Research Center)

9:15am to 10:45am

3rd Floor Tier

Opening Panel Session

Chair – Thalia Goldstein (George Mason University, MasonARC)

Researcher – Steven Holochwost (WolfBrown)

Practitioner – Joanne Seelig (Imagination Stage)

Policy/Grant making – Ayanna Hudson (National Endowment for the Arts)

11:00am to 11:55am

3rd Floor Tier

Researcher Panel

Chair – Melissa Menzer (National Endowment for the Arts)

Lab-based research – Amanda Grenell (University of Minnesota)

Large data set research – Ken Elpus (University of Maryland)

Qualitative/Design-based research – Kim Sheridan (George Mason University, MasonARC)

Field-based intervention research – Jatin Ambegaonkar (George Mason University)

Ending with music by Chloe Lewis (Mason Community Arts Academy)

12:00pm to 1:15pm

1st Floor Lobby

Lunch

1:30pm to 2:35pm

3rd Floor Tier

Policy & Practitioner Panel

Chair – Mary Dell'Erba (Arts Education Partnership)

Muna Shami (Kennedy Center)

Lucas Held (Wallace Foundation)

Laura Annunziata (WolfTrap Center for the Arts)

Diane Ruggiero (Alexandria Arts)

2:50pm to 3:55pm

2nd Floor Tier

Speed Networking Session

A quick and fun way to have introductory conversations with many different attendees within an hour!

4:00pm to 4:50pm

1st Floor Lobby

Interactive Sharing Session

Participants are assigned to small tables and given a central question and 30 minutes to discuss, ending with a "share out"

4:50pm to 5:10pm

2nd Floor Tier

Snacks and Refreshments

5:10pm to 6:00pm

2nd Floor Tier

Poster Symposium & Closing Remarks

1 min talks on each poster to start the session

With music by Patriot Violins (Mason Community Arts Academy)

5:50pm: Closing Remarks from MasonARC